Lembro-me desta imagem. Não sei se em cartazes de agências de viagens, mas recorda-me. No tempo em que o Algarve não era para todos.
 Foi empreendimento afamado. O Sporting, nos anos 80, fez os seus estágios de pré-campeonato anos a fio na aldeia olímpica deste empreendimento, onde dispunha dum ginásio e dum campo relvado. O cross das amendoeiras em flor corria-se no pinhal adjacente. Em redor pouco mais havia.
 A primeira pernoita da minha primeira incursão no Algarve foi num dos apartamentos, cuido que já contei a história...
 Nos alvores dos anos 90 tornei a andar por lá em aventuras juvenis e devaneios namoradeiros. Onde isso já vai!... -- Mas tocou-me o espírito do lugar. Há lugares assim, onde habita um genius loci. Sinto que ainda se acha pelo pinhal, quando lhe não calha cavalgar os ventos sobre a falésia. Mas noto-lhe de ano a ano os tombos no betão...
  ...
 Tudo isto decaíu. Hoje até o troço final da estrada das Açoteias que desemboca neste exacto ponto se avergonha; diz que é a Rua da Exposição Canina, veja-se lá a importância que certas coisas tomam...
 Talvez a moça se conserve.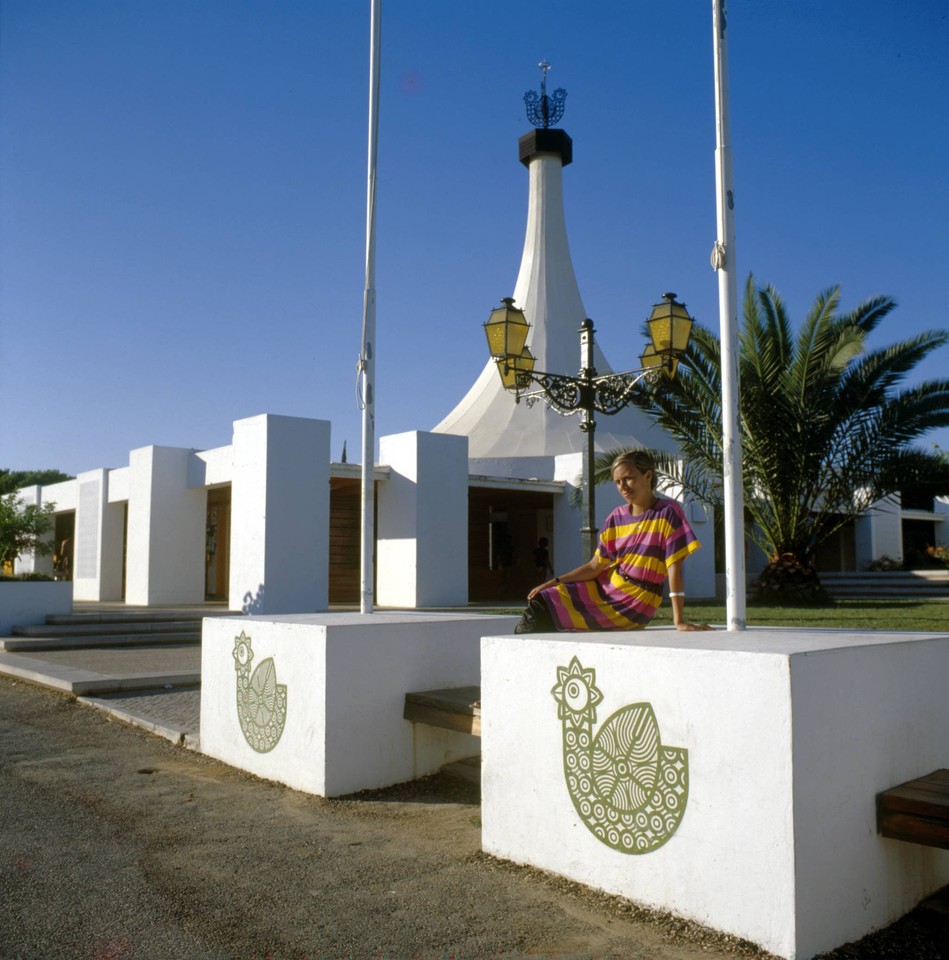 Aldeia das Açoteias, Algarve, 198...
Artur Pastor, in Arquivo Fotográfico da C.M.L.

(Redigido na noute de S. João de 2014.)

De James a 21 de Junho de 2018
Hello,

Please can you help me ?

I want to know why Victor Palla designed the Aldeia do Açoteias in the 1960s.

Was this maybe the first tourist village ?

I do not understand why a mosque was built ?

Thankyou .. obrigado.

James.


Hello James,
3rd question: It is not a mosque; It is (was) a disco.
1st & 2nd i do not know, but I'll try to find out.
Cheers.
De James a 21 de Junho de 2018
Olá

Thankyou for your email information.

Yesterday my wife and I did some more internet research. We are on holiday here from the UK.


So far we believe it was a group of late 1960 buildings (dome building, tall spire building, round small amphitheatre style performance (Fado maybe ?)stage, sculpture, swimming pool area and holiday homes) and was the first group of buildings that were the 'start' of the holiday village of Açoteias ?

Does this sound right to you too ?

My Portuguese language skills are not great but I do try.

I am guessing the whole area was not built on until this village arrived which probably looked really modern and exciting in the 1960s.

I also found an official document online that suggested it could be knocked down ? I hope not because it is of local historical interest as well as maybe national interest and is also a great practical and functional area.

I personally think it would be great if the local council could protect it and use it as an area of interest for locals and tourists. It is 'where it all began'.

Victor Palla's name appears but I am not sure if he was a designer or just photographer in the 1980s.

We found this and several other postcards that tourists could send home back in the 1960/1970s.

https://goo.gl/images/hiFe7p


Thank you and we are traveling home to the UK soon and from time to time if more information develops it would be fun to find out of any progress.

I am a concrete artist (early days) and I was reading about William Mitchell who was part of the concrete artist revelotion in the 1960s in the UK so this is why I am interested in this site of importance...I believe !

Obrigado.

James.




Victor Palla (1922-2006) was an architect and an artist of many skills: photographer, writer, painter, sculptor, ceramist, graphic designer… He was indeed the architect who designed Aldeia das Açoteias along with Bento d'Almeida, his partner architect from 1947 to 1973.

Portugal was developing fast in the 60's and tourism in Algarve was developing even faster. Albufeira was a regular tourist destination since the 50's; Vilamoura was kicked from nothing by 1965. So was the Aldeia das Açoteias. Victor Palla and Bento d'Almeida were asked by SURFAL (Sociedade Urbanizadora da Praia da Falésia) for a project of a tourist complex in Praia da Falésia as a large scale development to reach in a sole architectural enterprise all the needs of a modern tourist (see the plans in pages 1319-1332). The project is from 1967-68 — a great architectural enterprise with several areas: residential, with studio apartments up to villas T3 and T4 — some with housekeeper or maid accommodation beside the kitchen; sports area, tennis courts, riding school; luxury and middle price hotels; administration services, chapel and religious services, post office, market, tea-room, an inn… By the cliffs the Falésia Hotel with more services: barbershop, supermarket, chemist, laundry and shops.

Only part was built: 1) the Aldeia das Açoteias as we know it, with its reception and the restaurant/disco, conference room, shops, and the picturesque houses so finely merged in the pinewoods that the only thing rising above the pine trees was the dome of the restaurant/disco (mosque); 2) the Aldeia do Mar by the cliffs (nowadays a separated undertaking called Aldeia da Falésia and once part of the original enterprise), which started in 1971 and was left unfinished for lack of funds due to the course of the revolution of 1974 (a true national disaster if I may say…) As I was told, by 1974-75 the administrators of the development ran away to Brazil with the money and the Aldeia das Açoteias project stopped. By then (1974-75) people who were buying houses from the blueprint and paying them in advance were offered full or partial ownership of what was built, as compensation to what they already had payed for. Obviously the partial ownership fell on summer months and the Aldeia das Açoteias got limited income thereafter with so few lodgings to rent on holiday season. Tourists used to go on holidays mainly from July to September.

By the late 80's the fading was noticeable. By 2012 it was like this…

As for the total area of Victor Palla's 1967 project, other developments were licensed over the years by the city council of Albufeira disregarding the original project. The pinewoods became more sparse by the year as the real estate mediators and the contractors grew money fat by the lots… Of course some of that "fat" flows to fund town elections and political parties; then building licenses flow back from city-hall to more projects and contract work…
— Can one devise why Aldeia das Açoteias has to be knocked down, even though it is one of the first (if not the first) village resort of the kind in Algarve?
No one pays attention to heritage unless it pays back the right (or left) wing way…

----
Victor Palla was perhaps an underrated artist back in his days and so has he been a forgotten one for many years after. Last year however he was remembered for his architecture work in Centro Cultural de Belém. Currently another exhibition of his photography book about Lisbon is being held at Lisbon Museum. I'm guessing this has to do somehow to the fact Victor Palla was married once to the current prime minister's mother. Just an idea… No matter the reason, may the recovery of Victor Palla's memory help to save the Aldeia das Açoteias.
Hopefully.

Cheers!
De [s.n.] a 2 de Julho de 2018
Olá

Thank you so much for all your information. That is really interesting. I am sorry I took so long but emails arrived in my spam folder. This is now fixed.

Is it to be knocked down ? That would be sad. I hope somebody can see a future for it somehow. The small amphitheatre is charming .. for entertainment .. Fado ?

I have a lot to read now. I look forward to this.

Obrigado obrigado.

James.